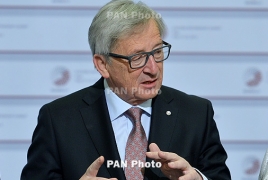 March 1, 2017 - 18:37 AMT
PanARMENIAN.Net - European Commission chief Jean-Claude Juncker revealed Wednesday, March 1 his plans to save the EU, warning the troubled bloc must now write a "new chapter" after Britain's expected exit in 2019, AFP reports.
The former Luxembourg premier laid out five "pathways to unity" for European Union leaders to consider at a special summit in Rome on March 25 to mark the 60th anniversary of the bloc's founding treaty.
They range from reducing the EU to just a single market, to creating a "multi-speed" Europe in which like-minded countries can push on with plans even when others disagree.
Since the shock Brexit vote last June, the other 27 EU states have been soul-searching about how to deal with challenges including rising populism, the election of Donald Trump and an increasingly assertive Russia.
"Rome must also be the start of a new chapter," former Luxembourg prime minister Juncker says in the "White Paper on the Future of Europe", which is 32 pages long including appendixes.
"A united Europe at 27 needs to shape its own destiny and carve out a vision for its own future," said Juncker, who unveiled the plans to the European Parliament in Brussels.
Juncker said he hoped EU leaders could draw their first conclusions based on his suggestions by the end of the year, and decide on a course of action by European Parliament elections in June 2019.