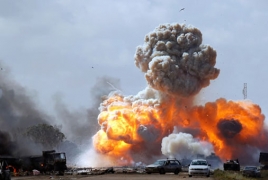 March 3, 2017 - 15:37 AMT
PanARMENIAN.Net - Clashes began on Friday, March 3 morning between the Rojava Peshmerga who are loyal to Iraqi Kurdistan's President Masou Barzni, and the Yazidi Shingal Resistance Units (YBS), who are trained by the Turkey based Kurdistan Workers Party and oppose Barzani's relations with Turkish President Erdogan, Al Masdar News reports.
However officials of the Shingal Resistance Units called the out-break of clashes a "provocation" by the 'Roj-pesh' and accused the force of trying to push them out of the region, Kom News reported.
Meanwhile, a commander in the Shingal Women's Units (YJS), a part of the YBS, Rosyar Vejin said that the development was a result of KRG President Massoud Barzani's recent visit to Ankara, with Turkey demanding that the PKK, who entered the area in 2014 to defend the Yazidi minority against ISIS, to leave the area, the Kom News report continued.
"We tried to prevent clashes from occurring till the last moment. But they attacked our control points. They are trying to portray some who are traitors as 'Rojava peshmerga'," Vejin said.
Speaking to Rudaw English the spokesperson of the 'Roj-pesh' said on Thursday the deployment to the area was part of a routine change over.
"We have had a unit stationed there, and today a new regiment has gone there, too," Sharvan Derki said, adding that the first deployment was about two years ago. "But the media has now made the issue bigger than it is. The media says that a force has been deployed to the border so that they will enter Rojava, but it is baseless. We have just changed our locations."