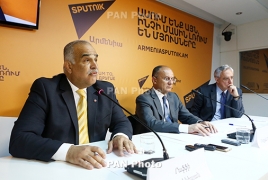 March 27, 2017 - 14:03 AMT
PanARMENIAN.Net - The arrest of former Nagorno Karabakh military commander Samvel Babayan is a result of political persecution against supporters of Ohanyan-Raffi-Oskanian (ORO) alliance, which is unacceptable during the campaign, the bloc's number 1, former defense minister Seyran Ohanyan told reporters on Monday, March 27.
Babayan who served as former minister of defence of Nagorno Karabakh (Artsakh), the Liberation Army commander, was arrested with two others for smuggling Igla anti-aircraft missile system parts from Georgia, the Armenian national security service said.
"There has been pressure on our alliance during all this period," Ohanyan said, adding that Babayan is their combat friend and supporter.
"We work through his lawyer who says there is no evidence based on the information collected so far. If there's no evidence, I believe the arrest denotes political persecution against Samvel and our alliance."
Also, Ohanyan ruled out the possibility of his own arrest, describing similar remarks as disinformation.
Babayan is an active supporter, but not a member of Ohanyan-Raffi-Oskanian bloc, which is led by Ohanyan and two former foreign ministers - Raffi Hovannisian and Vartan Oskanian.