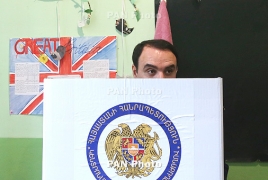 April 2, 2017 - 13:06 AMT
PanARMENIAN.Net - The Armenian Renaissance party leader Artur Baghdasaryan cast a ballot in the elections tothe National Assembly, giving his vote for the rebirth of Armenia.
"I voted for a strong, competitive, well-organized modern state to lead our nation to a better future," Baghdasaryan told journalists, according to Sputnik Armenia.
Bagdasaryan expressed confidence for Armenian Renaissance to make it to the top 3 leading parties after the elections. He also spoke about several reports of technical malfunctions registered by the Armenian Renaissance staff. At the same time, he expressed confidence for the changes to the Electoral Code to provide an adequate election process.
Nine political forces, including 4 blocs and 5 parties are running for seats at the National Assembly - Republican, Armenian Revolutionary Federation Dashnaktsutyun, Armenian Renaissance, Free Democrats and Communist parties, as well as Tsarukyan, YELQ, ANC-PPA and Ohanyan-Raffi-Oskanian blocs.
You can follow the course of the elections live on PanARMENIAN.Net