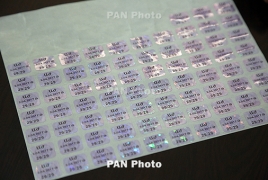 April 5, 2017 - 12:05 AMT
PanARMENIAN.Net - No district commission will consider applications for recounts as they have been introduced "by unauthorized persons," a Central Electoral Commission spokeswoman said, according to Aravot.am.
Hermine Harutyunyan said earlier that district candidates from the ruling Republican Party (RPA), Tsarukyan bloc, ARF Dashnaktsutyun and Armenian Renaissance party had submitted recount requests.
Under the new Electoral Code, candidates who have observed the vote counting process are eligible to apply for recount.
Based on results calculated in all the 2009 polling stations, the Republican party leads with 49.12% of votes (771 247 ballots), followed by the Tsarukyan bloc with 27.32% (428 965), YELQ with 7.77% (122 049) and the ARF Dashnaktsutyun with 6.57% (103 173). Voter turnout stood at 60.86% on Sunday, April 2.