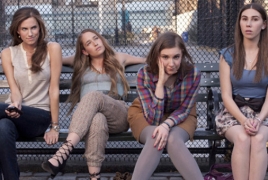 April 17, 2017 - 13:23 AMT
PanARMENIAN.Net - "Girls" wrapped up Hannah's story on an appropriate point, as she has evolved from a selfish girl into a lady who thinks about another person other than herself. In the April 16 series finale, [SPOILER ALERT!] Hannah becomes a mom after getting pregnant with a surf instructor's (Riz Ahmed) child and deciding to keep the baby, AceShowbiz said.
After an agonizing struggle to breastfeed, Hannah was consoled by her best friend Marnie and mom Loreen when her baby Grover wouldn't "latch on," showing her nurturing side. Explaining Hannah's face in the final seconds when she was breastfeeding Grover, executive producer Jenni Konner says, "That look is, I've got this. In the pilot, she is the brattiest girl and explaining to her parents why she deserves money more than other people. In the end, she's giving a teenage girl advice and telling her to respect her mother. So, she's really grown up."
Lena Dunham, who created the comedy-drama series and played the lead character, chimes in, "It only took her seven years!"
Konner adds, "I basically knew that it was going to end on her face in a feeling of looking towards the future and contentment. It doesn't necessarily mean we know what happened, but it's supposed to communicate, 'She's going to be OK on her own.' "
Dunham had always known how she wanted the series to end. "There was always some sense that for Hannah, finality didn't have to do with a traditional romantic partnership, but it did have to do with some kind of partnership," she tells Entertainment Weekly. "And the most selfless partnership you take on is when you have a child - that's something that seemed like it would be a really interesting thing to see a notoriously selfish person try their hand at."
As it had been confirmed before, Jessa and Shoshanna didn't appear in the final episode. Konner explains why Shoshanna cut herself out of the group, "She's been feeling it for a long time, probably since the beach house episode. That was in her anger phase and now she's in her acceptance phase. Also, she was Jessa's younger cousin - she wasn't quite on their level at the beginning, and I think she always felt different than [the others]."
As for Jessa and Hannah's friendship, Konner says, "I think Jessa and Hannah have hurt each other too much at this point to really be friends." In the end, Marnie is the one who is still there with Hannah. "We always said Marnie and Hannah were the true love story of the show. Marnie's personality is such that she was not going to let anyone else [help Hannah with her baby]. If it was going to be someone, it was going to be her," Konner says.
Responding to criticisms that said Hannah's decision to keep the baby and keep her new job "teaching the Internet" at a college in upstate New York was "old-fashioned" and "narratively unrealistic," Dunham says, "Every choice we've ever made on 'Girls' has been politicized." She continues, "I saw some piece - because my mother loves to send me everything - that said, 'Girls' did a disservice by not having Hannah have an abortion.' And I was like, 'Part of what we're all fighting for is reproductive freedom in all of its forms.' "