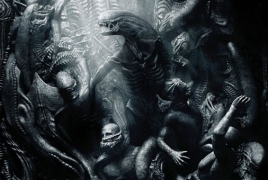 April 18, 2017 - 17:04 AMT
PanARMENIAN.Net - 20th Century Fox has released two promo clips for "Alien: Covenant" ahead of its release date on May 19. The clips are titled "Crew Messages: Daniels" and "Crew Messages: Oram", featuring the two Covenant crew members sending messages to their loved ones as they embark on their mission, AceShowbiz said.
Katherine Waterston's Daniels sends a message to her father in the first clip. While she says her words gently, the transmission is interrupted by glitches and intercut with glimpses of horrifying events which lie ahead. "If something does happen to me, Dad, I just want you to know [that] I love you so much," says Daniels close to the end of the clip.
The second clip, meanwhile, is much shorter, featuring Billy Crudup's Oram sending message to his family and friends. "The majesty of creation lies before us now," he says in the first part of the clip. Like Daniels' clip, this video also features eerie glitches.
"Alien: Covenant" follows the story of colony ship Covenant which travels to a planet faraway. The crew think they will discover an uncharted paradise in that planet, but they find a dark and dangerous world instead.
The science fiction horror film is scheduled to hit U.S. theaters on May 19. Also starring in "Alien: Covenant" are James Franco, Michael Fassbender, Danny McBride, Demian Bichir, Carmen Ejogo and Noomi Rapace.