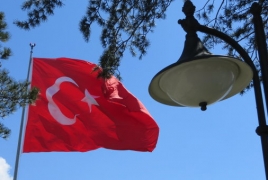 April 25, 2017 - 11:57 AMT
PanARMENIAN.Net - The Turkish foreign ministry has criticized U.S. President Donald Trump for his statement in commemoration of the Armenian Genocide, saying that his words are historically inaccurate and based on a one-sided approach to the event, Sputnik reports.
Trump commemorated the anniversary of the start of the Armenian Genocide in a statement released by the White House, saying that "Meds Yeghern," a term used by the Armenians to describe the 1915 events, was one the worst atrocities in history of 20th century.
"We consider that the misinformation and false definitions contained in U.S. President Trump's written statement of April 24, 2017 regarding the 1915 events are derived from the information pollution created over the years by some Armenian circles in the U.S. by means of propaganda methods," the Turkish Foreign Ministry said in a statement.
Ankara noted that Turkish President Recep Tayyip Erdogan has attended the ceremony in commemoration of the event at the Armenian Patriarchate of Istanbul on Monday, April 24, according to the statement.
About 1.5 million Armenians were killed between 1915 and 1923, hundreds of thousands were forced out of the country, in a campaign by the Ottoman forces.