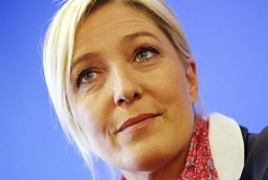 April 28, 2017 - 12:09 AMT
PanARMENIAN.Net - French presidential candidate Marine Le Pen's far-right party is in new turmoil — its temporary leader is stepping down over allegations he expressed doubt about Nazi gas chambers, The Associated Press reports.
National Front vice president Louis Aliot said on BFM television Friday, April 28 that interim party leader Jean-Francois Jalkh is leaving his post because of comments reported in a 2000 interview.
Jalkh took over this week after Le Pen said she would step aside to concentrate on her campaign.
Aliot said that Jalkh is contesting allegations of Holocaust denial, a crime in France.
Le Pen has worked hard to detoxify the party, tainted by racism and anti-Semitism in the past. She faces centrist Emmanuel Macron in a highly charged presidential runoff May 7.
Macron is visiting the site of a Nazi massacre later Friday.