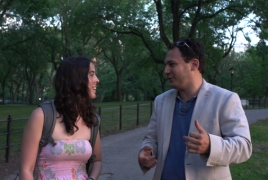 April 28, 2017 - 15:03 AMT
PanARMENIAN.Net - Rachel Israel's romantic comedy "Keep the Change" and Elvira Lind's documentary "Bobbi Jene" were among the top award winners in the juried competitions at the 2017 Tribeca Film Festival, with "Keep the Change" taking the prize for U.S. narrative feature and "Bobbi Jene" snagging the documentary honor. Elina Psykous' fairy-tale-infused family drama "Son of Sofia" scored the trophy for international narrative feature, Variety said.
"Bobbi Jene," about an American dancer's move back to the U.S. after spending a decade as a star in an Israeli dance company, received awards for both cinematography (Lind) and editing (Adam Nielson) as well as the top doc title. "Keep the Change," about a budding romance between a high-functioning autistic man and the woman he meets in a support group, took the award for new narrative director (Israel). Alessandro Nivola ("One Percent More Humid") and Nadia Alexander ("Blame") were among the performers to win acting honors.
Awards for the 16th annual Tribeca Film Festival were handed out in an April 27 ceremony at the BMCC Tribeca Performing Arts Center in downtown Manhattan. The 2017 fest runs through April 30, with a retrospective screening of both parts of "The Godfather" set as the closer.