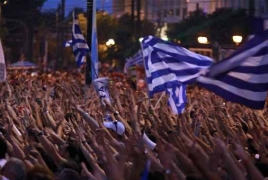 May 2, 2017 - 17:07 AMT
PanARMENIAN.Net - Greece has reached a preliminary agreement with its international creditors on reforms needed to release the next instalment of its multi-billion-dollar bailout, BBC News reports.
Greece has promised to further cut pensions, by 0.9% on average, and lower the tax threshold to produce savings worth 2% of gross domestic product.
The measures will have to be approved by the Greek parliament.
Creditors have agreed to hold talks on how to make Greece's debts sustainable. Greece has been pushing for measures on debt relief.
The German finance ministry called the deal an important intermediate step. Greece has to repay $7.5bn (6.9bn euros) to its eurozone lenders and the International Monetary Fund in July.
The next step is a meeting on 22 May of eurozone finance ministers, who are required to sign off on the deal.
Earlier this month, the Greek government agreed to take on another $3.8bn in cuts in 2019 and 2020.