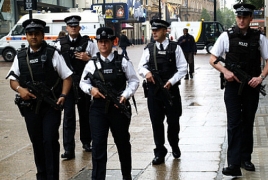 May 19, 2017 - 16:28 AMT
PanARMENIAN.Net - British police said WikiLeaks founder Julian Assange would still be arrested if he leaves the Ecuadorean embassy in London after Swedish prosecutors said on Friday, May 19 they would drop a preliminary investigation into an allegation of rape against him, Reuters reports.
Assange, 45, has been holed up in the embassy since 2012 after skipping bail to avoid extradition to Sweden over the allegation of rape, which he denies.
"Westminster Magistrates' Court issued a warrant for the arrest of Julian Assange following him failing to surrender to the court on the 29 June 2012," London police said in a statement. "The Metropolitan Police Service is obliged to execute that warrant should he leave the Embassy."
A brief statement ahead of a press conference by a Swedish prosecutor later on Friday said: "Director of Public Prosecution, Ms Marianne Ny, has today decided to discontinue the investigation regarding suspected rape (lesser degree) by Julian Assange."
After the news was announced, Wikileaks tweeted that the "focus now moves to the UK", saying the UK had "refused to confirm or deny whether it has already received a US extradition warrant for Julian Assange".