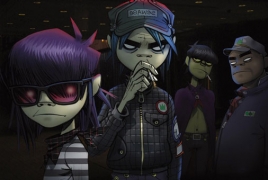 May 26, 2017 - 18:59 AMT
PanARMENIAN.Net - Gorillaz have announced the support acts for their first North American tour for seven years, NME reports.
The Damon Albarn and Jamie Hewlett-led band released their new record 'Humanz' in April, recently confirming US and Canada shows in Chicago, Toronto, Boston, Philadelphia, Quebec, Washington DC, San Francisco, New York, Detroit, Minneapolis, Kansas City, Las Vegas, Denver, Seattle, Los Angeles, Atlanta and Miami for later this year.
They've now confirmed that rappers Danny Brown and Vince Staples – both of whom feature on 'Humanz' – will open for the band during these dates.
Gorillaz have also announced a full UK and European tour.
Despite only releasing their fifth record last month, they recently revealed that they're already talking about its follow-up.
Speaking in an interview with Channel 4, Albarn discussed the long stretches between each album, saying: "It's served us well having these big gaps [between albums] because, in the interim, the technology does move forward. And the whole thing about Gorillaz is that cutting edge between music and technology. That's driven the whole thing and made it different."
Hewlitt, however, went on to add that they already have an "idea" for their next record. He said: "There has to be a gap between the albums because they're quite exhausting. They take a lot of work. But we're already talking about the next album, so there might not be a gap this time… It starts with one idea. Like, there's a conversation one night, you have one idea a sentence, and that is the basis for a whole album. And then we never talk again until it's finished. And we had that one idea again the other night. So we have to get started on the next one. Not today, maybe tomorrow."
"It's so ahead of its time, you wouldn't be able to understand it," Albarn then joked when asked what the idea for the next album was.