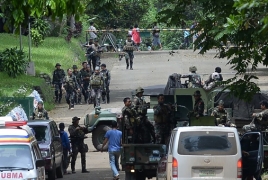 May 29, 2017 - 14:39 AMT
PanARMENIAN.Net - The Philippines military said on Monday, May 29 it was close to retaking a southern city held for a seventh day by Islamist militants, as helicopters unleashed more rockets on positions held by the rebels aligned with Islamic State, Reuters said.
The clashes in Marawi city with the Maute militia, a group hardly known a year ago, has become the biggest security challenge of Rodrigo Duterte's 11-month presidency, with gunmen resisting air and ground assaults and still in control of central parts of a city of 200,000 people.
The military said the rebels may be getting help from "sympathetic elements" and fighters they had freed from jail during the rampage that started on Tuesday and caught the military by surprise.
"Our ground commanders have assured that the end is almost there," military spokesman, Restituto Padilla told reporters.
"We can control who comes in and who comes out, who moves around and who doesn't. And we're trying to isolate all these pockets of resistance."
More than 100 people have been killed, most of them militants, according to the military, and most of the city's residents have fled.
The military said the Maute group was still present in nine of the city's 96 Barangays, or communities.
The Maute group's ability to fight off the military for so long will add to fears that Islamic State's radical ideology is spreading in the southern Philippines and it could become a haven for militants from Indonesia, Malaysia and beyond.
The government believes the Maute carried out their assault before the Muslim holy month of Ramadan to capture the attention of Islamic State and earn recognition as a Southeast Asian affiliate.
The military's estimates of the size of the rebel force and the extent of its occupation have fluctuated each day. It has maintained throughout that it is in full control of the situation and says supporters of the Maute were making exaggerated claims on social media.
According to witnesses, men with black headbands typical of Islamic State were seen on city streets in recent days. A photograph taken by a resident shows 10 men carrying assault rifles and dressed entirely in black.
A Reuters photographer saw an Islamic State flag in an oil drum in an abandoned street on Monday, where chickens roamed in front of damaged shops and homes.