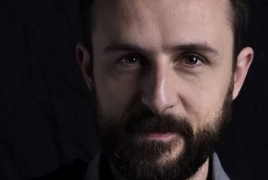 June 7, 2017 - 16:23 AMT
PanARMENIAN.Net - Naples-born Alessandro Rak, a singular auteur on Italy's animation scene, is preparing his second solo outing, "A Skeleton Story", Variety said.
For Rak, whose debut, "The Art of Happiness," twinned a naturalist depiction of an urban landscape – Naples – with reflections on East meeting West and brotherhood, the animated feature marks another play for maturer audiences that is not that common in his native Italy.
Produced by Italy's Mad Entertainment, the same production company behind Rak's debut "The Art of Happiness" and omnibus feature "Cinderella the Cat," the family-targeting comedy turns on a gawky detective, also a skeleton, working in the dust-covered Kingdom of the Dead.
When a very-much-alive black cat suddenly appears in his domain, and proves not to be the only living newcomer, then, according to Rak, "a big adventure begins in the colorful, surprising land of lost memories."
"It's a story about redemption, hope, friendship, kindness prompted by the arrival of a child –the most revolutionary event that you can expect," Rak explained.
Co-produced by France's Ellipsamine, and a typically singular concept from Rak, "Skeleton," presented at Bordeau's Cartoon Movie, was the comic book artist and illustrator's first idea for a feature but "became a graphic novel because at that time I didn't know any producers!" he said.
Sold by Elle Driver, and premiered at 2014 Venice's Critics Week, Rak's debut, "The Art of Happiness," an adult drama set in Rak's native Naples about a taxi-driver trying to get over the death of his brother, won the European Animated Feature Film Award and the Jury Prize at London's Raindance Festival.
Currently in post and also set in Naples, mob fable "Cinderella the Cat" is directed by Rak, alongside Dario Sansone, Marino Guarnieri and Ivan Cappiello. Annecy sneak previewed excerpts last year. It will be ready for delivery this September. RAI COM handles international sales. It will probably not be his last collaboration.
"I like to work with other people to create good stories of life, and cinema gives me this opportunity. So I imagine that my next movie will be not only mine," he said.