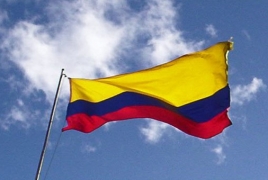 June 8, 2017 - 10:37 AMT
PanARMENIAN.Net - Colombia's Marxist FARC rebels on Wednesday, June 7 said they have handed over 30 percent of their weapons to UN officials as part of a deal to end a half-century of war, AFP reports.
"Thirty percent of our arms have been put in the hands of UN monitors" of the peace process "and stored in containers," said FARC leader Rodrigo Londono, better known by his alias "Timochenko."
"This is the beginning of the end of our demobilizing," he added in a speech in the northern town of Cano Indio.
The weapons are to be stored at 26 points around the South American country. The next 30 percent are to be stored for good on June 14 and the last 40 percent on June 20.
The government and the FARC -- formally known as the Revolutionary Armed Forces of Colombia, the country's biggest rebel group -- reached a deal last year after four years of negotiations in the Cuban capital.
Colombian voters rejected it by a narrow margin in a referendum in October.
President Juan Manuel Santos and FARC leaders then drafted a new version before the government pushed it through Congress.
The Colombian conflict erupted in 1964, when the FARC and the ELN -- a smaller rebel group -- took up arms for rural land rights.
The violence drew in various rebel and paramilitary forces and drug gangs as well as state forces.
The conflict has left at least 260,000 people dead and displaced more than seven million, according to the authorities.