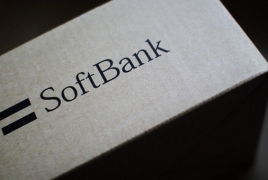 June 9, 2017 - 11:34 AMT
PanARMENIAN.Net - Japan's SoftBank Group Corp said on Friday, June 9 that a unit of the company will buy two firms that build walking robots from Alphabet Inc , which would add to the group's growing artificial intelligence portfolio, Reuters reports.
The Japanese company will buy Boston Dynamics and Tokyo-based Schaft, which design and manufacture robots that simulate human movement. It did not disclose the terms of the transactions.
SoftBank's shares rose as much as 7.9 percent after the deal was announced, hitting a 17-year high.
"Smart robotics are going to be a key driver of the next stage of the information revolution, and Marc (Raibert) and his team at Boston Dynamics are the clear technology leaders in advanced dynamic robots," SoftBank Group Chairman Masayoshi Son said in a statement. Raibert is CEO and founder of Boston Dynamics.
SoftBank has embarked on an aggressive acquisition campaign to boost its research and development capabilities. The group is backing the $93 billion Vision Fund, the world's largest private equity fund, which seeks to invest in technologies expected to grow significantly in the near future, such as robotics and artificial intelligence.
Son, Japan's richest man, describes the fund as essential for setting up SoftBank for a data "gold rush" which he expects to happen as the global economy becomes increasingly digitized.
Schaft, a University of Tokyo spinoff, develops bipedal robots designed to negotiate uneven terrain.
"Robotics as a field has great potential, and we're happy to see Boston Dynamics and Schaft join the SoftBank team to continue contributing to the next generation of robotics," an Alphabet spokesperson said.
Boston Dynamics has produced a number of robots that mimic human and animal movement including Atlas, a humanoid model that co-ordinates motion and balance using its arms and legs and can pick itself up off the ground when knocked over.
It is best known for building robots that look as if they belong in science-fiction movies and are often co-developed or funded by the U.S. military. Its military projects would mean the acquisition is likely to be subject to regulatory approval from Committee on Foreign Investment in the United States.