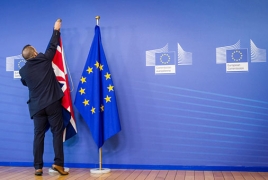 June 12, 2017 - 17:51 AMT
PanARMENIAN.Net - The EU's Brexit chief met British officials on Monday, June 12 to try to hammer out a date for the start of formal talks, as concerns grew that negotiations could be delayed by the fallout from Britain's chaotic election, AFP reports.
Full negotiations had been due to start on June 19, but Brussels said the date was still not confirmed after British Prime Minister Theresa May unexpectedly lost her majority in parliament.
In a sign of the confusion, the furthest the two sides have managed to progress is to have what a European Commission spokesman called "talking about talks" in a bid to move forward.
EU Brexit negotiator Michel Barnier met senior British Brexit official Oliver Robbins in Brussels to discuss arrangements such as dates and the sequencing of talks once they do actually get started.
"We are fully prepared and ready for negotiations to start," commission spokesman Alexander Winterstein told reporters.
"When will be the point from moving to talking about talks, to more detailed talks, I cannot say. This doesn't depend entirely on us."
Brussels has warned that time is running out to start the talks on divorce terms and a future trade deal, with Britain set to leave the EU come what may in March 2019.
European Commission chief Jean-Claude Juncker said last Friday that Brussels would be ready "at half past nine" the next morning if Britain was ready.
London has said it wants formal political talks between Barnier and Brexit minister David Davis to start next Monday but it since Thursday's election it has not formally committed to the date.