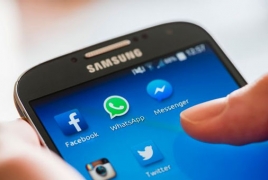 June 13, 2017 - 17:50 AMT
PanARMENIAN.Net - France and the UK are considering imposing fines on social media companies "that fail to take action" against terrorist propaganda and violent content, under a joint anti-terror campaign announced Tuesday, June 13. UK Prime Minister Theresa May will discuss the proposed measures with French President Emmanuel Macron ahead of her visit to Paris Tuesday, The Verge reveals.
In a press release, the Prime Minister's office said the campaign aims "to ensure that the internet cannot be used as a safe space for terrorists and criminals." May and Macron will discuss "the possibility of creating a new legal liability for tech companies if they fail to remove content," the UK release states, including potential fines.
Leaders across Europe have pressured companies like Facebook, Twitter, and Google to more swiftly remove hate speech and terrorist material online, though there are concerns that aggressive legislation could infringe on free speech. May called for stricter internet regulations following recent terrorist attacks in London and Manchester, and her government has criticized WhatsApp and other encrypted messaging services for providing terrorists with a "secret place to communicate."
The Prime Minister's office says France and the UK will work with tech companies to help curb terrorist content online and develop tools to "identify and remove harmful material automatically." Some tech companies have already begun incorporating tools to automatically detect illegal or extremist material, though experts have said that such material can be difficult to define.
"The counter-terrorism cooperation between British and French intelligence agencies is already strong, but President Macron and I agree that more should be done to tackle the terrorist threat online," May said in a statement Tuesday. "We are united in our total condemnation of terrorism and our commitment to stamp out this evil," she added.