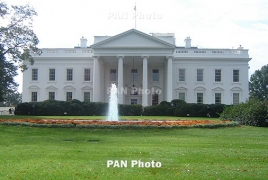 June 14, 2017 - 11:50 AMT
PanARMENIAN.Net - U.S. president Donald Trump has granted the Pentagon authority to set troop levels in Afghanistan, a US official said Tuesday, June 13, a move that could lead to the deployment of thousands more soldiers, AFP reports.
Speaking on condition of anonymity, the official told AFP that Pentagon chief Jim Mattis can now directly adjust troop numbers, though the official would not confirm whether a new "force management level" -- currently at around 8,400 -- had been finalized.
"The White House has done the same that it did with Iraq and Syria, which is to grant the secretary of defense the authority to set troop levels," the official said, referring to recent adjustments Trump has approved for the fight against the Islamic State group in those two countries.
Under Barack Obama, troop levels in Afghanistan, Iraq and Syria were closely managed by the White House and commanders complained they felt shackled by the strictures.
The development came just hours after Mattis gave lengthy testimony to lawmakers, some of whom were exasperated at how long it has taken for Trump to come up with a new strategy in Afghanistan.
The official said the final decision to give Mattis the power to adjust troop levels actually came during his testimony, at which he said America still is "not winning" in Afghanistan.
The "Taliban had a good year last year, they are trying to have a good one this year," Mattis told the Senate Armed Services Committee at a hearing about the Pentagon's budget.
"Right now, I believe the enemy is surging."
Mattis's latest assessment comes nearly 16 years after the US-led invasion of Afghanistan and amid a war that continues to claim the lives of US troops each year -- and those of thousands of local forces and civilians.
US military commanders, who saw fragile security gains eroded under Obama-era troop drawdowns, have been pushing for a new strategy that could see thousands of additional soldiers deploy to Afghanistan to help train and advise beleaguered Afghan partners.