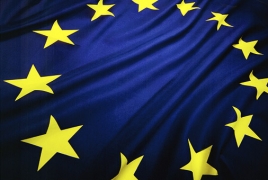 June 19, 2017 - 17:27 AMT
PanARMENIAN.Net - The European Union on Monday, June 19 extended for another year its trade sanctions on the Black Sea peninsula of Crimea, annexed by Russia from Ukraine in 2014, and diplomats said they expected the bloc to do the same for its sanctions on Moscow soon, Reuters reports.
Moscow's annexation of Crimea is not internationally recognized. Along with Moscow's subsequent backing of an armed separatist rebellion in Ukraine's industrial east, it has prompted the bloc to impose sanctions on the peninsula and on Moscow, in sync with the United States.
EU sanctions on Crimea will now remain in place until at least June 23, 2018.
They include a ban on all imports from Crimea and exports to the peninsula that relate to transport, energy and telecoms. The sanctions also prohibit EU investment and the provision of tourism services there.
The bloc's sanctions on Moscow restrict the Russian banking sector's access to international money markets and ban most arms trading with Russia, as well as the sale of some energy-related equipment and technology.
These are due to expire at the end of July but sources in Brussels said they would be rolled over for another six months after the EU leaders' summit on June 22-23.
"As usual, the Italians have asked for a formal 'discussion' at the summit but even they are not opposed to another six months," said one senior EU diplomat. He believed the conclusion of this exchange was all but foregone.
Italy, as well as Greece and Hungary, are among EU states more dovish on Russia. They criticize sanctions as ineffective and causing harm to the European businesses as well. The hawks include Poland, Sweden and the Baltic states.
Despite the divisions, the EU has so far been able to uphold its unity on sanctions. Its resolve would be tested further should the new U.S. President Donald Trump deliver on his early promises of a broad detente with Russia.
However, in May the United States joined its fellow members in the G7 group of major industrialized states in their stance that the duration of sanctions depended on Russia's complete implementation of a peace deal for Ukraine.
The implementation of the agreement has been stuck for more than two years.
"[T]he duration of sanctions is clearly linked to Russia's complete implementation of its commitments in the Minsk Agreements and respect for Ukraine's sovereignty," the G7 leaders said, adding that the punitive measures "can be rolled back when Russia meets its commitments".
Diplomats said they expected the move to extend sanctions to be formally finalised within days after the EU leaders' summit. Such a decision requires unanimous support of all 28 EU states.