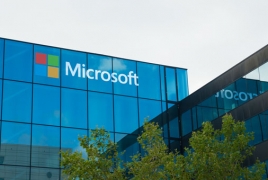 June 24, 2017 - 17:31 AMT
PanARMENIAN.Net - A portion of Microsoft's Windows 10 source code has leaked online this week. Files related to Microsoft's USB, storage, and Wi-Fi drivers in Windows 10 were posted to Beta Archive this week. Beta Archive is an enthusiast site that tracks Windows releases, and asks members to donate money or contribute something Windows-related if they access a free private FTP full of archived Windows builds. The leaked code was published to Beta Archive's FTP, and is part of Microsoft's Shared Source Kit, The Verge says.
"Our review confirms that these files are actually a portion of the source code from the Shared Source Initiative and is used by OEMs and partners," reveals a Microsoft spokesperson in an email to The Verge.
While The Register claims 32TB of data, including unreleased Windows builds, has been leaked, The Verge understands most of the collection has been available for months, or even years. The Register also claims the source code leak is bigger than the Windows 2000 leak from 2004, but The Verge understands this is inaccurate and that the Windows 10 source code leak is relatively minor.
The leak will be embarrassing for Microsoft, but the source code itself is already shared with partners, enterprises, governments, and other customers who choose to license it through the Shared Source initiative. Microsoft's Windows 10 Mobile Adaption Kit was also included in the leak, alongside some Windows 10 Creators Update builds, and some ARM-based versions of Windows 10.