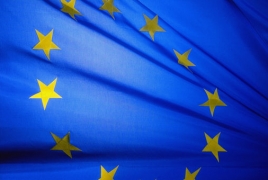 July 5, 2017 - 13:23 AMT
PanARMENIAN.Net - The European Union has approved a 5.4 billion euro ($6.1 billion) state bailout of Italy's fourth-largest lender, Monte dei Paschi di Siena (BMPS.MI), taking the total amount of Italian taxpayer funds deployed to rescue banks over the past week to more than 20 billion euros, according to Reuters.
Outside Greece, Europe has not seen such big state bailouts since the aftermath of the global financial crisis, raising political concerns about the continued use of public funds to mop up losses at badly run banks despite the introduction of new EU rules designed to prevent this.
In a statement on Tuesday, EU state aid regulators said Rome could inject the 5.4 billion euros aid into Monte dei Paschi after the bank agreed to a drastic overhaul, including the transfer of bad loans to a special vehicle and a salary cap for senior managers.
The bank's overall capital shortfall is 8.1 billion euros, an Italian Treasury official said, down from the 8.8 billion euros previously calculated by the European Central Bank.
Monte dei Paschi, the world's oldest bank, turned to the state for a bailout after failing to raise 5 billion euros on the market to shore up its capital.
Barely a week ago Italy pledged up to 17 billion euros, mostly in guarantees, to prevent senior bondholders, depositors and staff from being hit by the winding up of two regional banks, Popolare di Vicenza and Veneto Banca.
That deal also involved Italy's biggest retail bank, Intesa Sanpaolo (ISP.MI), acquiring the two banks' best assets for a token euro.
The Italian government believes a profit can still be made from the bailouts. "I am confident state money will be recouped, perhaps at a premium," finance minister Pier Carlo Padoan said on Tuesday, referring to Monte dei Paschi.