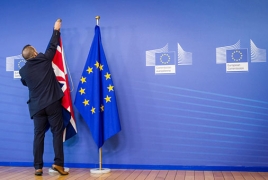 July 12, 2017 - 16:16 AMT
PanARMENIAN.Net - The European Union's chief Brexit negotiator said on Wednesday, July 12 there were many differences with Britain on citizens' rights, including on the role of the EU court, that needed to be sorted out before talks on a trade deal could start, Reuters reports.
"We want EU citizens in Britain to have the same rights as British citizens who live in the EU," Michel Barnier told a news conference in Brussels, adding that the current British position did not guarantee equal rights.
Barnier said the European Court of Justice should be the "ultimate guarantor" of those rights, and if Britain opposed this "it would create uncertainty". Britain wants to regulate citizens' rights under British law.
He said there should be progress on all three priority Brexit issues before talks on a wider future relationship could start. As well as citizens' rights the other priority areas are Britain's exit bill and borders.
"These three priority subjects for the first phase of negotiations are inseparable. In other words, progress on one or two of these topics will not be sufficient to move on to discussions about our future relationship with the United Kingdom," Barnier said.
Commenting on British Foreign Secretary Boris Johnson's quip on Tuesday that the EU "could whistle" for big payments from Britain as part of the Brexit deal, Barnier said: "I'm not hearing any whistling, just the clock ticking."
Barnier dismissed some UK politicians' accusations that the Brexit bill was a ransom bill, with the EU motivated by a desire to punish Britain.
"It is simply a matter of settling the accounts. It is not easy, it costs a lot, in any separation. We are not asking from Britain a single euro, a single pound more than what it agreed to pay," Barnier said.