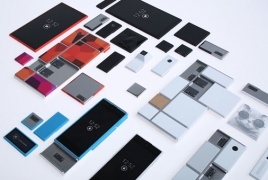 July 21, 2017 - 14:26 AMT
PanARMENIAN.Net - Facebook appears to be taking a page out of Google's playbook for its forthcoming push into consumer hardware. A patent application published by the company on Thursday, July 20 details a "modular electromechanical device" that can incorporate a speaker, microphone, touch display, GPS, and even function as a phone, Business Insider reveals.
Modular consumer hardware allows users to swap different components onto a device, much in the way lego pieces can be snapped together or separated.
The notion of a plug-and-play smartphone has long entranced and challenged tech companies. Google spent several years developing its ambitious Project Ara modular phone, only to abruptly shutter it last year.
Coincidentally, many key members of Google's Project Ara team now work at Facebook's Building 8 group, the team responsible for the new patent application.
Building 8 is Facebook's consumer hardware lab that's also working on futuristic projects like the ability to type with your mind and understand language through your skin. The four employees named on the patent all previously worked for Nascent Objects, a startup Facebook bought last year that used 3D printing to quickly prototype modular gadgets.
A Facebook spokesperson confirmed that the technology was acquired through Nascent Objects but declined to comment further.
The modular device could function as a phone or Amazon Alexa-like music speaker, according to the patent, which also notes that "millions of devices" connected to a server could be loaded with different software based on components that are swapped out. Building 8's head of new product introduction, Bernard Richardson, previously worked in a similar role at Amazon on the Alexa speaker, according to his LinkedIn.