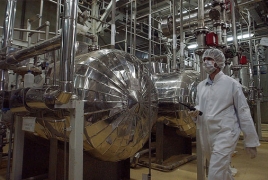 July 22, 2017 - 10:21 AMT
PanARMENIAN.Net - Iran decided on Friday, July 21 for the second time since January not to upset its nuclear pact with six world powers, two informed sources said, despite public statements by Tehran accusing the United States of violating the deal, according to Reuters.
Iranian President Hassan Rouhani said on Wednesday new U.S. economic sanctions imposed against Iran contravened the nuclear accord reached with world powers in 2015 and he pledged Tehran would "resist" them while respecting the deal itself.
The Trump administration slapped new sanctions on Iran on Tuesday over its ballistic missile program and said Tehran's "malign activities" in the Middle East undercut any "positive contributions" coming from the nuclear accord, which was reached during the Obama administration.
Iran can use the so-called Joint Commission meetings held every three months in Vienna to trigger a formal dispute resolution mechanism set out for cases where one party feels there is a breach of the deal.
Iran's nuclear envoy Abbas Araqchi declined to answer whether he had used the meeting to trigger the mechanism. But he said: "We were not satisfied with America's...broken promises and...announced that we're not convinced that America has properly carried out its duties."
He added: "Iran maintains its right to show any reaction toward these bad promises."
A source with knowledge of the matter said "the Iranians did complain a lot and the Russians supported them, but they won't play along to Washington's game and be turned into killjoys."
This source, and another one with knowledge of Friday's meeting, said Iran did not use the plenary session comprised of envoys from Iran, the United States, Russia, China, France, Britain, Germany and the EU to start a dispute resolution.
This mirrored Tehran's actions in January at a previous so-called Joint Commission meeting, which is held in Vienna every three months, when Iranian officials opted not to escalate a stand-off over the extension of other U.S. sanctions.
The U.S. measures signal that the administration of President Donald Trump is seeking to increase pressure on Iran while keeping in place the deal designed to curb its nuclear activities in return for a lifting of international sanctions.
The Trump administration is reviewing policy on Iran, not only looking at Tehran's compliance with the nuclear deal, which it has certified, but also its behavior in the region that Washington says undermines U.S. interests in Syria, Iraq, Yemen and Lebanon.