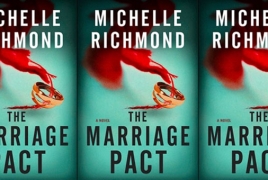 July 25, 2017 - 11:22 AMT
PanARMENIAN.Net - 20th Century Fox has acquired the feature film rights to Michelle Richmond's upcoming psychological suspense novel "The Marriage Pact", Variety said.
Justin Haythe will adapt the screenplay for the film, which will be produced by Chernin Entertainment. "The Marriage Pact" will be published in the U.S. by Bantam Books, a Random House imprint, on Tuesday. Foreign editions are forthcoming in 27 languages. "The Marriage Pact" is centered on newlyweds who receive an enticing wedding gift, and decide to join an exclusive and mysterious group known only as The Pact. The goal of The Pact is to keep marriages happy and intact, but the young lovers discover that for adherents to The Pact, membership is for life. The marriage of their dreams devolves into their worst nightmare.
Haythe's writing credits include the upcoming Fox feature film "Red Sparrow," starring Jennifer Lawrence, which Chernin also produced. He also wrote "Revolutionary Road."
Richmond's previous novels include the 2014 political thriller "Golden State," the international bestseller "The Year of the Fog," and "No One You Know." Her 2014 story collection, "Hum," received the Catherine Doctorow Innovative Fiction Prize.
Fox's Kira Goldberg will oversee the project for the studio. Fox-based Chernin is the producer of "War for the Planet of the Apes," "Hidden Figures," the upcoming "The Mountain Between Us," and "Fear Street," based on R.L. Stine's horror book series of the same name.