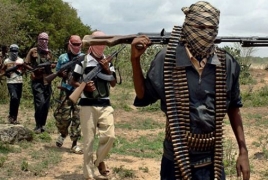 July 29, 2017 - 16:03 AMT
PanARMENIAN.Net - Three University of Maiduguri workers allegedly abducted by Boko Haram Islamist militants during an ambush on an oil exploration team this week pleaded in a YouTube video released Friday, July 28, for the Nigerian government to meet their captors' demands, Bloomberg reports.
The video shows three men identifying themselves as staff at university's geology department. It was recorded on Friday and they are being held by a Boko Haram faction of Abu Musab al-Barnawi, the leader recognized by the Islamic State, said Solomon A. Yusuf, who spoke on behalf of the three in the video. They don't say what their captors' demands are.
Africa's top oil producer is trying to expand exploration in areas outside the restive Niger River delta in the south where militant attacks on pipelines cut output to an almost 30-year low last year.
The July 25 attack on a Nigerian oil exploration team by militants killed at least 48 people, hospital and military officials in the north eastern city of Maiduguri said. The team, hired by the Nigerian National Petroleum Corp., which was concluding geological surveys in parts of the Lake Chad basin, may resume work when "there is security clearance," Minister of State for Petroleum Emmanuel Kachikwu said Thursday.