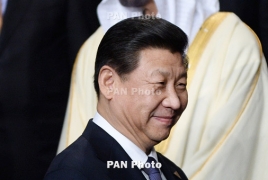 August 1, 2017 - 10:08 AMT
PanARMENIAN.Net - China will fiercely protect its sovereignty against "any people, organisation or political party", President Xi Jinping warned Tuesday, August 1, as the country celebrated the 90th anniversary of its military, the People's Liberation Army, AFP reports.
The message comes as the ruling Communist Party faces political resistance in semi-autonomous Hong Kong, where many locals fear Beijing is tightening its grip, and in self-ruled Taiwan, which China views as a rebel province awaiting reunification.
The Asian giant is also mired in several bitter border disputes with its neighbours, including an ongoing stand-off with India over territory on China's border with Bhutan.
"We will never allow any people, organisation or political party to split any part of Chinese territory out of the country at any time, in any form," Xi told an audience of Communist Party officials and army officials gathered at Beijing's Great Hall of the People.
"No one should expect us to swallow the bitter fruit that is harmful to our sovereignty, security or development interests," he said.
Since coming into office in 2012, Xi has centralised power and cracked down on critics of the ruling party, while taking a hard line on territorial disputes.
China has at the same time been engaged in a modernisation of the its once-backward armed forces, as it seeks military clout commensurate with its economic might.
While the country formerly followed a strategy of "hide your strength", it has begun to indulge in more frequent, pointed demonstrations of its power.