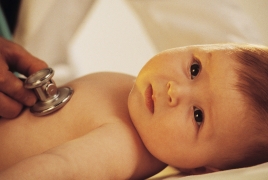 August 3, 2017 - 14:34 AMT
PanARMENIAN.Net - A study has recently revealed that babies, who are born to kidnapped brides have 80 to 190 grams lower birth weight than other babies, NewKerala.com reports.
According to researchers, bride kidnapping remains a common practice in a handful of countries and when young women are kidnapped into marriage, their babies pay the price.
The researchers looked at the Central Asian republic of Kyrgyzstan, where bride kidnapping, abducting young women and girls for the purpose of marriage remains widespread.
They found that the children born to kidnapped brides weighed 80 to 190 grams less than infants born in arranged marriages.
Study author Charles Becker from Duke University in Durham, North Carolina said that the birth weight provides an important marker of both mothers' and babies' health.
Lower birth weight is also been linked to greater risk of disease.
"The practice of kidnapping encompasses events ranging from staged elopement to forced abduction," Becker said.
Other researchers have found similarly between lower birth weight among babies and the mothers, who were assaulted during pregnancy.
Bride kidnapping persists in countries as diverse as Armenia, Ethiopia, Kazakhstan and South Africa.
In Kyrgyzstan, between 16 to 23 percent of marriages result from kidnapping, the authors stated.
Kidnapped brides tend to be younger than other brides, the study found.
In Kyrgyzstan, the mean age among those brides was 19. Not surprisingly perhaps, divorce rates also ran higher among marriages that resulted from kidnapping.
The research appears in journal Demography.