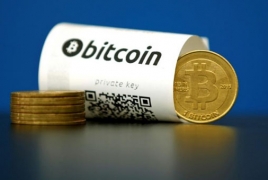 August 5, 2017 - 14:51 AMT
PanARMENIAN.Net - Coinbase, one of the world's largest (if not the) largest cryptocurrency exchanges, has reversed its stance on Bitcoin Cash and said it will introduce support for the fork next year, TechCrunch reports.
Coinbase was among numerous exchanges to opt out of trading Bitcoin Cash after it came into existence on August 1 on the grounds that it wasn't proven or safe. Beyond refusing to facilitate trading, Coinbase also said it wouldn't allow customers storing original Bitcoin on its platform to claim their Bitcoin Cash entitlement. Those who wanted it were told to remove their coins and go elsewhere to do that.
But now the company — which was started by former Airbnb engineer Brian Armstrong and is reportedly raising funding at a $1 billion valuation — has changed its stance slightly. It told customers via email that it will introduce "support" for Bitcoin Cash by January 1.
"Once supported, customers will be able to withdraw Bitcoin Cash. We'll make a determination at a later date about adding trading support," Coinbase said.
Right now, Bitcoin Cash became the third largest cryptocurrency based on total coins in the market on day one, but it's $7 billion market cap trails Bitcoin ($44 billion) and Ethereum ($21 billion) by some way. Its situation may have changed by January, too, while also Coinbase has tended to take a conservative approach to bringing new currencies on.