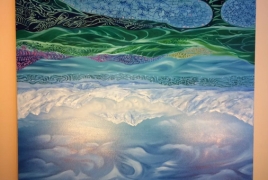 August 26, 2017 - 15:26 AMT
PanARMENIAN.Net - Colorful mountain landscapes, a "Nuclear Sunrise," and vibrant, swirling "Moodscapes" created by Farmington Hills artist Arthur Lazaryan are on display in the Rotating Exhibits Gallery at Farmington Hills City Hall, Farmington Voice reports.
Lazaryan's paintings and sculptures are displayed in public and private collections worldwide. Lazaryan grew up in Armenia where he loved drawing, painting, and sculpting. By the time he was a teenager, he had already participated in several group and solo exhibitions in Armenia and throughout Europe and Asia. His first show in the United States was at the Contemporary Fine Art Gallery in Los Angeles and since 2014, he has shown paintings at Art Prize in Grand Rapids.
Lazaryan is inspired by his surroundings, including the diverse beauty of Michigan.
"I often show the changes that happen in us and around us – past, present and future," he said. "The colors and shapes represent time and people, as well as the dynamic flow of joy and appreciation of life." "Moodscape – Blue" was the winner
"Moodscape – Blue" won the Fourth Grade People's Choice Award at the 2017 Festival of the Arts in Farmington Hills. It was a big hit with young people for its sheer beauty and the possibility of eyeballs and animals in the water scene.
Lazaryan is among 74 artists included in Farmington's Public Art Program. Pieces in a variety of media including clay, metal, fiber, paint, glass, and photography, are on display through 2018.