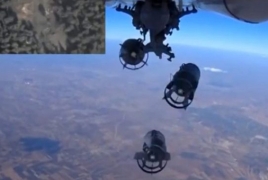 September 8, 2017 - 14:00 AMT
PanARMENIAN.Net - Several top Islamic State militants were killed in recent airstrikes carried out by the Russian Aerospace Forces against the group's positions in the Deir Ezzor Governorate, Al-Masdar News reports.
One of the the IS' most important command-and-control centers in he province was destroyed in the attack Deir ez-Zor this week, killing over 40 Islamic State combatants and several leaders.
"After confirming the information received and conducting additional reconnaissance, two Su-34 and Su-35 aircraft of Russia's Aerospace Forces were scrambled from the Hmeymim air base, which made a pinpoint strike with bunker busting bombs. The air strike destroyed an underground command post, a communications center and about 40 militants of Daesh," a statement from the Russian Ministry of Defense claimed.
Among the IS leaders killed was the group's War Minister, Gulmurod Khalimov, a wanted militant from Tajikistan.
In addition, the Russian Air Force also killed the 'Emir' of Deir ez-Zor, Abu Muhammad Al-Shmali, the group's finance minister.