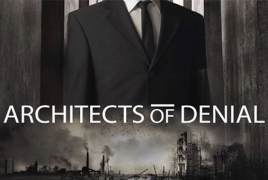 September 14, 2017 - 13:33 AMT
PanARMENIAN.Net - Painstakingly documenting the Armenian Genocide (or what is also known as the Armenian Holocaust), documentary feature "Architects of Denial" goes in search of the sheer acknowledgement of this tragic piece of history, The Huffington Post said in its review of the latest film telling about the annihilation of 1.5 million Armenians.
"For the Turks, the Genocide never happened; they will not admit anything, as the film explores. Yet there were executions into mass graves, and death marches of men, women and children across the Syrian desert to concentration camps, all resulting in deaths from exhaustion, exposure and starvation," the article says.
For the Armenian community, and without the appropriate validation, the Genocide has simply never ended. Genocide denied is Genocide continued is the underlying message of this film, and the lack of validation in present day by some only magnifies what could have been the entire destruction of these innocent people.
Told through the eyes of the survivors with insights from Julian Assange; Sibel Edmonds, founder of the National Security Whistleblowers Coalition; Genocide Watch founder Dr. Gregory Stanton, and Academy Award winning actor and director George Clooney, "Architects of Denial" tackles the persecution of these innocent individuals and the countries – and the politicians – who refuse, even today, to acknowledge the enormity of these mass crimes.
Not for the faint of heart, "Architects of Denial" nonetheless is a critical piece of documentary cinema that cannot be marred by any resistance, the Huffington Post says.
Executive produced by former daytime talk show host Montel Williams and actor Dean Cain, and directed by David Lee George, "Architects of Denial" tackles the organized mass murder of an estimated 1.5 million Christian citizens, most of them Armenian, by the Ottoman Empire during World War I (between 1915 and 1923), and the resistance by the Turkish government, the successor of the Ottoman Empire, and other authoritative bodies (including the United States) to admit this did indeed occur.