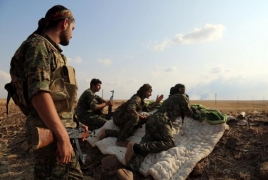 September 15, 2017 - 14:04 AMT
PanARMENIAN.Net - Footage has emerged of a massive Kurdish convoy heading southwards along the main road leading to Hasakah to Deir ez-Zor. Over the past week, the Syrian Democratic Forces (SDF) have brushed aside all Islamic State resistance since launching their large-scale offensive, dubbed the 'Al-Jazirah Storm', Al-Masdar News reports.
The video, released by the Kurdish YPG (main SDF branch), showed technicals and Humvees driving en route to Deir ez-Zor. An emphasis is espcially put on female fighters.
Heavily backed by US airstrikes, SDF combattants have thus far captured over a dozen villages and even reached the northern bank of the Euphrates River.
A large IS pocket has formed in the northwestern countryside of Deir ez-Zor where a string of jihadist-held towns on the Euphrates River have been cutoff from the Islamic State mainland.