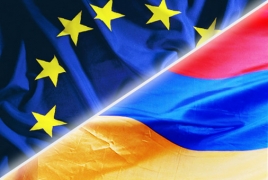 September 15, 2017 - 14:36 AMT
PanARMENIAN.Net - The delegation of the European Union in Armenia is organizing Europe in Armenia Expo, the first multi-sectoral and investment fair in Armenia dedicated to EU companies, the mission announced on Friday, September 15.
The event launched on September 15 and will run until 17 September at the Yerevan Expo Centre.
The trade fair aims to increase the trade turnover between the European Union and Armenia, explore advantages of investing, and provide import and export opportunities for European and Armenian manufacturers and service providers.
The fair has the welcome and support of EU member countries and the Armenian government, which will ensure the strong presence of the business community, investors, and stakeholders. The opening ceremony included speeches by EU ambassador to Armenia Piotr Świtalski, deputy foreign minister Robert Harutyunyan, and Petros Sourmelis, the Head of Unit, Directorate General Trade, European Commission, followed by a guided tour.
The EU has always put emphasis on fruitful commercial collaboration between its member countries and Armenia.
Though land-locked and with a relatively small internal market, Armenia is a gateway to many economical giants to which it has preferential access, the EU says.
EU-Armenian trade benefits from specialised EU Generalised System of Preferences (GSP+), which means 6300 Armenian products are exported to EU with no customs duty. That is one of the reasons that the EU became first export destination for Armenian products. As has always been the case historically, Armenia's location at the crossroads of cultures and influences is the perfect platform for flourishing trade.