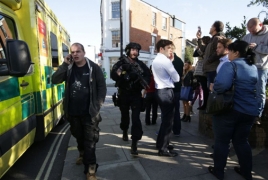 September 15, 2017 - 16:29 AMT
PanARMENIAN.Net - At least 22 people were injured after a bomb detonated on a packed London Underground train during the morning rush hour on Friday, September 15 in what police are treating as a "terrorist incident", AFP reports.
Witnesses reported seeing a "wall of fire" and passengers with facial burns and hair coming off at Parsons Green station in west London after the explosion on the train.
"At 8:20 this morning at Parsons Green station there was an explosion on a Tube train. We now assess that this was a detonation of an improvised explosive device," police counter-terror chief Mark Rowley said.
Rowley said most of the injuries were due to "flash burns", while others were wounded by the stampede as passengers ran out of the station in panic.
Twitter user @Rrigs, who posted pictures of a white bucket smouldering on the train, said: "Explosion on Parsons Green District Line train. Fireball flew down carriage and we just jumped out open door".
The bucket looked like the type used by builders and there appeared to be cables coming out of it.
One local resident, Charlie Craven, who was on his way to the station, said he heard a "massive bang".
"I saw an orange sort of fireball encompassing the whole Tube coming towards you," he told AFP, describing it also as "a wall of fire".
The National Health Service said 18 people were taken by ambulance to hospital, while four others made their own way to hospitals.
The London Ambulance Service said none of the victims "are thought to be in a serious or life-threatening condition".
The MI5 intelligence service is assisting investigators.
Prime Minister Theresa May said her thoughts were with the injured and emergency services had responded "swiftly and bravely".
She will be chairing an emergency cabinet meeting later in the day.
Eight people were killed and 48 were injured in the latest terror attack in London in June, when a van left the road and struck a number of pedestrians on London Bridge.