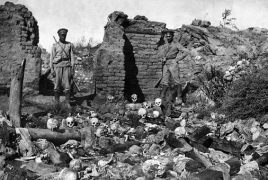 September 16, 2017 - 13:07 AMT
PanARMENIAN.Net - The Armenian Museum of America has a new special exhibition, "Scars of Silence", planned to open on September 28 and run through January 27 in the Adele and Haig Der Manuelian gallery in Watertown, Massachusetts, Wicked Local Watertown reports.
The exhibition, curated by artist and designer Jennifer Liston Munson, includes excerpts from a film by Nubar and Abby Alexanian and photographs by Nubar Alexanian.
"Scars of Silence" chronicles Armenian-American father and daughter as they embark on a journey to their ancestral homeland as an act of reparative resistance. The work reveals the legacy of the Armenian Genocide (1915–1923), bringing to the surface the consequences of Turkish denial — psychological and political — that have contributed to the subconscious suppression of loss for three generations and offers a personal account of what it means to be Armenian today.
The museum is also launching a new branding campaign with the opening of this exhibition. Under the new leadership of Michele Kolligian, board of trustees president, the museum is updating its website, collateral, programming and gallery displays.
1.5 million perished during the mass killings and death marches masterminded and perpetrates at the hands of the Young Turk government in the Ottoman Empire.
Some three dozen states, hundreds of local government bodies and international organizations have so far recognized the Armenian Genocide. Turkey denies to this day.