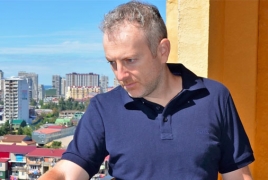 September 16, 2017 - 17:41 AMT
PanARMENIAN.Net - If Azerbaijan expected gratitude for releasing a blogger from prison early, it has miscalculated, EurasiaNet said in an article about the release of a Russian-Israeli blogger who was jailed in Baku for visiting Nagorno Karabakh.
Shortly after his release and landing in Israel, Lapshin took to his blog and Facebook to tell the full story.
For one, he denied Azerbaijani government statements that he had attempted suicide while in prison. Instead, he wrote, he was badly beaten, to the point that he passed out and woke up in a hospital hooked up to a catheter and an oxygen mask. He further speculates that the attack was carried out to discredit Aliyev personally, which he says corresponds to what he has been told by Azerbaijan's opposition living abroad.
He even more strongly took back his statements about Karabakh, declaring in a Facebook post that it was without doubt Armenian territory.
"I am ashamed of admitting that before I found myself in an Azeri prison I sincerely believed that the Karabakh conflict is a very disputed one and should be resolved on the basis of respect for Azerbaijan's borders," he wrote. "What an idiot I was! Already in 1988 Azerbaijan began terror against Armenians in Sumgait, Baku and Karabakh."
"Armenians, hold firm!" he concluded. "These people want to see you dead, full stop. And if you lose Karabakh as a result of negotiations or a weakening of Armenia's position, be aware that they will come to slaughter you. Just like the Turks did 100 years ago. Their brutality already has exceeded all acceptable limits."
According to EurasiaNet, it's very clear that Azerbaijan has created for itself a PR disaster entirely of its own making, and that shows no signs of going away soon.
"In the space of about 24 hours he's already written three blog posts and has a knack for hitting all of Azerbaijan's sore spots, claiming the country is a hotbed of Islamist extremism and anti-Semitism, on top of everything else. He's started the hashtag #azeromarazm, translating roughly to "Azeri stupidity," which a number of Armenian twitter users have adopted gleefully.
"Ironically, give the anti-Semitism claims, the timing of Lapshin's release appears to be connected to a visit by Defense Minister Zakir Hasanov to Israel. Baku appeared to think the pardon would be a humane gesture to show their Israeli partners, which now seems to have badly backfired."