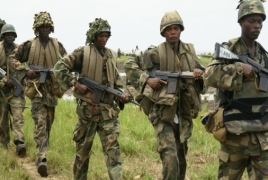 September 27, 2017 - 16:59 AMT
PanARMENIAN.Net - Nigeria's military has arrested a commander of terror group Boko Haram, who had been on the list of the most wanted terrorists, Xinhua reported on Wednesday, September 27.
Sani Kukasheka Usman, the army spokesman, told reporters that the terrorist, named Idris Ibrahim Babawo, was arrested on Monday by the police in the southwestern state of Ondo and was immediately handed over to the army.
Babawo, according to the army, was believed to be on serial number 156 on the wanted Boko Haram terrorist list by the army.
A preliminary investigation by the army had shown that the suspect, aged 42, escaped from the northeast region due to the military onslaught, Usman said.
Nigeria has made a considerable gain on the Boko Haram front, with its security forces operating in the restive northeast region dislodging Boko Haram fighters from the Sambisa Forest, the group's largest training camp in the country, in December last year.
At least 1,400 suspected members of Boko Haram are currently held in a detention center in the country's northeast region.
Boko Haram has been blamed for the deaths of more than 20,000 people and displacing of 2.3 million others in Nigeria since their insurgency started in 2009.