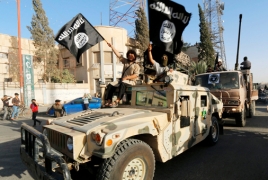 September 28, 2017 - 13:56 AMT
PanARMENIAN.Net - After briefly losing control of Al-Suwar, a key junction town some 50 kilometers east of Deir ez-Zor city, jihadist forces launched a powerful counterattack earlier on Thursday, September 28 to drive the Syrian Democratic Forces (SDF) out of the former Islamic State stronghold in eastern Syria, Al-Masdar News reports.
Before the Kurdish-led SDF managed to setup a defensive perimeter around the town, IS militants attacked Al-Suwar from its southern and northern axes on Thursday morning and threw two car bombs and dozens of seasoned fighters into the assault.
While firefights are yet to each a conclusion, IS has nevertheless retaken roughly half of the town according to a source close to Al-Masdar News. Meanwhile, SDF reinforcements are being rushed along the M7-highway to foil the ongoing jihadist attack.
In the same time, some reports from pro-Kurdish outlets indicate that SDF forward units have managed cross the Khabur River and secure Al-Suwar's eastern entrance while clashes continue inside the town itself.
In the coming weeeks, SDF commanders hope their ongoing 'Al-Jazirah Storm' offensive will slice adrift IS-held territory in Hasakah province from the Islamic State mainland, possibly prompting a preemptive tactical retreat by IS commanders.