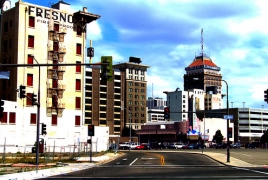 September 30, 2017 - 16:25 AMT
PanARMENIAN.Net - Fresno County Superior Court Judge Houry Sanderson, who is a descendent of Armenian Genocide survivors, as well as Arthur G. Baggett Jr. were inducted into the San Joaquin College of Law Alumni Hall of Fame Sept. 14, the Fresno Bee reports.
Sanderson, a 1987 graduate of SJCL, arrived in the United State as an immigrant from Lebanon when she was just 13-years- old. Her parents had prepared her for the transition and her English language skills were strong, but she still felt like she didn't quite fit in.
"Nobody can say your name," she recalls. "That hasn't changed, but now they call me 'Judge.'" (It's pronounced HOOO-ree.)
As a child, Sanderson learned about the 1915 Armenian Genocide and the fate of her grandparents and their communities. The knowledge of these atrocities paved the way for her interest in law, although her mother probably knew she was going to be a lawyer long before she did.
The Armenian Genocide was masterminded and perpetrated by the Young Turk government in the Ottoman Empire between 1915 and 1923, 1.5 million innocent Armenians were murdered or marched to death.