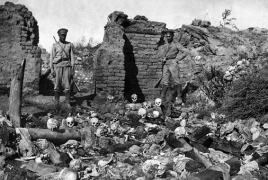 October 6, 2017 - 12:31 AMT
PanARMENIAN.Net - In the wake of the Armenian Genocide epic "The Promise," on the eve of the national release of "Architects of Denial," after a long summer of Congressional district meetings, and amid a renewed drive by Representatives Jackie Speier (D-CA), David Trott (R-MI) and their Armenian Caucus colleagues, the number of U.S. House cosponsors on H.Res.220 cleared one hundred this week, signaling growing support for passage of this bipartisan measure leveraging the lessons of the Armenian Genocide to prevent future atrocities across the Middle East and around the world, reported the Armenian National Committee of America (ANCA).
"We are gratified to see the growing bipartisan backing for the adoption of H.Res.220 and are encouraged that each of the top U.S. House leaders, from both sides of the aisle, have records of supporting honest American remembrance of the Armenian Genocide - from Speaker Ryan and Majority Leader McCarthy to Democratic Leader Pelosi and Democratic Whip Hoyer, as well, of course, Chairman Royce and Ranking Member Engel of the Foreign Affairs Committee," said Aram Hamparian, Executive Director of the ANCA. "We look forward to supporting the ongoing efforts H.Res.220's authors and cosponsors to secure its adoption by the full U.S. House."
This growing spotlight on Turkey's genocidal history and the ongoing aggression against Armenia and Artsakh by both Azerbaijan and Turkey have resonated with lawmakers, as seen during over 200 district meetings held by ANCA Western Region and Eastern Region local advocates this past summer, urging support for a myriad of Armenian American community concerns, including passage of H.Res.220 and the Senate Armenian Genocide Resolution, S.Res.136.
Congressional Armenian Caucus Co-Chairs Jackie Speier (D-CA) and Dave Trott (R-MI) have been vocal in rallying support for the human rights measure. Rep. Speier recently led an educational and cultural trip to Armenia, coordinated through the Embassy of Armenia, joined by Armenian Caucus founder and Co-Chair Frank Pallone (D-NJ), Co-Chair David Valadao, and Representatives Anna Eshoo (D-CA), Tulsi Gabbard (D-HI) and Jim Sensenbrenner (R-WI). Representatives Gabbard, Pallone and Valadao also traveled to the Republic of Artsakh.
U.S. Representatives David Trott (R-MI) and Adam Schiff (D-CA) are the lead authors of H.Res.220. This genocide prevention measure stresses that "proper commemoration and consistent condemnation of the Armenian Genocide will strengthen our international standing in preventing modern-day genocides," and, building upon the 2016 official U.S. designation of an ISIS genocide against Middle East minorities, specifically calls for the following: "[T]he United States, in seeking to prevent war crimes, crimes against humanity, and genocide against Christians, Yezidis, Muslims, Kurds, and other vulnerable religious and ethnic groups in the Middle East, should draw upon relevant lessons of the United States Government, civil society, and humanitarian response to the Armenian Genocide, Seyfo, and the broader genocidal campaign by the Ottoman Empire against Armenians, Assyrians, Chaldeans, Syriacs, Greeks, Pontians and other Christians upon their biblical era homelands."