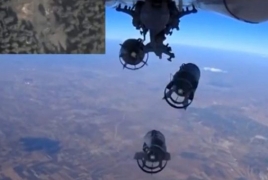 October 10, 2017 - 17:18 AMT
PanARMENIAN.Net - Militants of the Islamic State (IS, terror group, outlawed in Russia) no longer have sources of financing in Syria for purchasing weapons and ammunition and recruiting mercenaries – the group's economic infrastructure in that country has been destroyed, Russian Defense Ministry Spokesman Igor Konashenkov told reporters on Tuesday, October 10, TASS reports.
"The Russian Aerospace Forces have destroyed the economic infrastructure of ISIL (former name of IS – TASS) in Syria and foil any attempts by terrorists to resume the production and illegal sale of hydrocarbons in Syria. ISIL no longer has the sources of financing for purchasing weapons and ammunition and recruiting mercenaries in Syria," he said.
"The ongoing supply of terrorists from Iraq triggers serious questions concerning the objectives of operations against terrorists conducted in the region by US aircraft and the so-called international coalition," Konashenkov stressed.
Russia's Aerospace Forces carry out up to 150 strikes per day on the forces joining the IslamicState militants near Mayadin in Syria's Deir ez-Zor Governorate, he said.
The Syrian forces backed by Russia's air task force have significantly extended the territory controlled by them to the northwest and southeast of Deir ez-Zor over the past week, he said. Now an operation is underway to liberate a major IS stronghold near Mayadin, located some 40 km to the southeast of Deir ez-Zor.
The terrorists carry out attempts to send forces to Mayadin, including foreign mercenaries, who had intruded Syria from Iraq. The militants arrive in armored vehicles, pickups with large-caliber weapons and are well-equipped, Konashenkov said.
"Aircraft of Russia's Aerospace Forces crush these IS forces round-the-clock together with the rounds of ammunition and armored vehicles, delivering up to 150 airstrikes per day," the spokesman said.