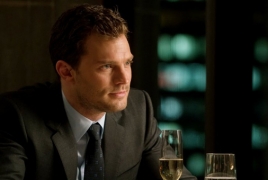 October 12, 2017 - 15:57 AMT
PanARMENIAN.Net - E. L. James has announced a new book in the "Fifty Shades of Grey" novel series. Titled "Darker: Fifty Shades Darker as Told by Christian", the latest installment of the BDSM novel series will hit the shelves on November 28. The author announced the good news via Instagram on Tuesday, October 10, AceShowbiz said.
"Hello all. I'm delighted to let you know that 'Darker: Fifty Shades Darker as told by Christian' will be published in the U.S. and U.K. on 28th November 2017," James wrote along with a picture of the book's cover. "Other territories to follow. I do hope you enjoy it. Much love. #FiftyShades #Darker #ChristianGrey."
The new book was pitched as a revisiting of "Fifty Shades Darker" written from Christian's point of view. It's the second in the series to use a perspective shift as "Fifty Shades" was framed as Anastasia Steele's story from the beginning of the series in 2011 until 2015, after which James published the first Christian-POV book, "Grey".
James said of the new book in a statement, "The inside of Christian Grey's head is a fascinating place to be." The author explained that "in 'Grey' we got the first glimpse of what makes Christian tick, but in 'Darker' we go deeper, into his most painful memories and the encounters that made him the damaged, demanding man Ana falls in love with."
James said that "writing this novel has been a journey of discovery." The 54-year-old English author, whose real name is Erika Mitchell, added in her statement, "I hope readers will find what I've learned as compelling as I did. Finally, it's always a joy to work with the great team at Vintage [Books]."
Anne Messitte, publisher of Vintage, added that "Darker" is "full of surprises" and that "readers are going to see a darker and more haunted version of Christian's character."
The novels have been subsequently adapted into films, with Jamie Dornan portraying Christian Grey. The first movie, "Fifty Shades of Grey", was released in 2015, followed by "Fifty Shades Darker" in February this year. The third film, "Fifty Shades Freed", is set to open in the United States on February 9 next year.