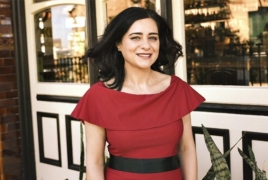 October 18, 2017 - 10:11 AMT
PanARMENIAN.Net - "Echoes of Emotion", the second album from western Sydney mezzo-soprano Georgina Makdessi, honours the timeless bond between singer and song, The Sun reports.
Makdessi, a descendant of an Armenian Genocide survivor, was born in Lebanon and said becoming a singer was a childhood dream.
"I've been told I was singing ever since I came out of the womb," she said. "I've always loved singing and always knew it was something that would be a part of my life."
Following on from her 2009 debut, "The Essential Wedding Collection", the Carlingford resident says "Echoes of Emotion" is a celebration of the power of music.
"I wanted to create something that depicted me as an artist in my own right," she said. "It's the type of music that I enjoy listening to. It includes songs and lyrics that really embrace my sense of style."
Whether singing in English, French or German, Makdessi conquers some mountainous neo-classical greats.
"There are 13 tracks on the album and each and every song shows the different range of voice that I can yield," she said.
The album explores some of the most popular vocal songs from esteemed artists such as Sarah Brightman and Hayley Westenra, delivered in all their glory by Makdessi's beautiful voice.
"I named it 'Echoes of Emotion' because that's exactly what the songs produce for the listener," Makdessi said.