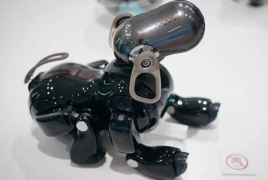 October 24, 2017 - 12:28 AMT
PanARMENIAN.Net - Sony Corp. is planning next spring to roll out a dog-shaped pet robot similar to its discontinued Aibo with updated components that could allow it to control home appliances, people familiar with the matter said, according to The Wall Street Journal.
The new dog is said to feature improved movement and internet connectivity that will enable it to control household appliances. Details on whether it will use the Aibo name or how much it will cost are unclear. Previous AIBO robots sold for as much as $2,500, The Verge says.
While the AIBO line wasn't a mainstream commercial success, with former CEO Howard Stringer unceremoniously killing it in 2006 as part of his cost-cutting efforts, Sony has recognized it as an iconic chapter in the company's history. AIBO featured in an Xperia campaign from a few years back, and many models were on show at Sony's recent 70th-anniversary exhibition.