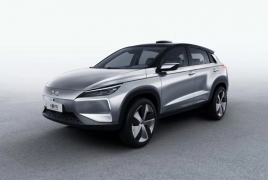 October 26, 2017 - 16:10 AMT
PanARMENIAN.Net - Tesla CEO Elon Musk always said that the mission of the company is to accelerate the advent of electric transport (and later they added renewable energy). They want to achieve that by producing competitive electric cars, but also by accelerating the whole industry's transition, which is why they open-sourced their patents.
It hasn't been clear if any company actually took advantage of Tesla's patents yet, but now a new Chinese startup openly references Tesla's technology and the open-sourcing of their patents as the motivation behind the company, Electrek reports.
Xiaopeng Motors was founded by Henry Xia back in 2014.
Xia was working in research and development for the Guangzhou Automobile Group when Tesla announced that they are opening their patents and the young engineer saw an opportunity to create a startup.
He enlisted the help of several other automotive engineers and also recruited from the internet and tech industries to create Xiaopeng.
3 years later, they launched the "beta version" of their first vehicle, the Xpeng, an all-electric SUV.
Now it is unknown exactly what Tesla patents they are using, but there's no doubt that the company was heavily inspired by the California-based automaker, Electrek says.
In terms of core technology, the first obvious link is the battery pack architecture. While almost every new automaker since Tesla has used the same long and flat battery pack design fitted on the floor of the car between the two axles, Xiaopeng also copied the battery module design inside the pack.
They are using the same 18650 battery cell format, but Xiaopeng actually uses Samsung li-ion cells unlike Tesla's custom Panasonic cells. Tesla currently uses 18650 cells for Model S and Model X packs and 2170 cells for Model 3 packs.
The Xpeng's battery enables ~300 km (186 miles) of range, according to the company.
Despite the similar battery pack architecture, the Xpeng is significantly less powerful than Tesla's vehicles, but it is aims at the lower end of the SUV market than Tesla's Model X.
Moving to the interior. Xiaopeng put a Tesla-like center touchscreen as the main control center for the vehicleand plans similar autonomous and assisted driving features as Tesla's Autopilot