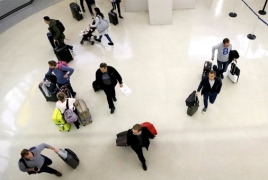 October 27, 2017 - 14:10 AMT
PanARMENIAN.Net - Armenian-American prosecutor Alex Bastian, the deputy chief of staff at the San Francisco District Attorney's Office, has been detained in a United States airport when returning from a trip to Armenia and Greece as a result of racial profiling, Bastian revealed in an article published on the New York Times.
"After about an hour of waiting, my interrogator came to ask me some questions," Bastian said in the feature.
"He asked me about my trip to Armenia, whether I had attempted to sneak into Turkey or Syria during my vacation, whether I had visited any refugee camps and whether I had joined any groups like ISIS. These are astoundingly ignorant questions. For one thing, I am an Armenian-American whose family escaped the Lebanese Civil War over 35 years ago. As a descendant of the Armenian Genocide, a genocide perpetrated by Turks, there is absolutely no logical reason I would sneak into Turkey from Armenia (especially since Turkey has blockaded that border). Furthermore, as an Armenian, I am a Christian, and as Armenians in Syria and Iraq have experienced, meeting with jihadist groups would have led to my kidnapping and possible beheading.
"It wasn't until some time into my questioning that the officer asked what I did for a living. I told him I was a prosecutor in the San Francisco district attorney's office, a fact that could have been revealed with a simple Google search. My detention ended shortly after that information came to light. What never came to light, however, is why they detained me in the first place. They never gave me a straight answer, and I have very few avenues for recourse. My detention was well within the rules."
In the article, the attorney says that the current policy of detaining people at airports based on the way they look is not only unconstitutional, "it also fails to make us safe."
"Racial profiling fails all of us because we all know danger comes from people who can look like anyone," he added.
"These experiences are part of why I became a prosecutor: to find a way to be part of the solution rather than complain about the problem. But these experiences are taxing. I can't change my face, I can't change my features, nor should I have to fly overseas in a tuxedo to make airport authorities feel more at ease."