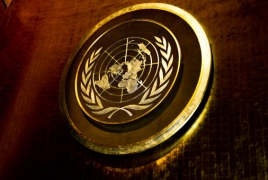 October 31, 2017 - 15:51 AMT
PanARMENIAN.Net - For the first time since September 24th, a UN humanitarian aid convoy has entered the besieged East Ghouta region of rural Damascus, Al-Masdar News reports.
According to a UN report, at least 48 humanitarian aid trucks filled with food and medicine entered the East Ghouta Monday, October 30, distributing these supplies to the towns and suburbs of 'Ayn Tarma, Jisreen, Beit Sawa, Al-Ashari, and Al-Mahamdiyah.
These aforementioned sites in the East Ghouta are mostly controlled by Faylaq Al-Rahman, which is a faction of the Free Syrian Army (FSA) that only operates in this region.
Russia recently renewed their de-escalation agreement with Faylaq Al-Rahman, prompting the former to help get aid trucks to this besieged area.